Key Features Of The Mailsend+ Franking Machine
About The Mailsend+ Mailmark Franking Machine
The Mailcoms Mailsend+ franking machine is currently one of Mailcoms' newest low to mid volume models. This makes the Mailsend+ perfect for companies that are dealing with slightly more mail on a daily basis. There are many great features available with the Mailcoms Mailsend+, including the latest franking technologies, franking a company logo or advert onto your mail, automatic software updates and PIN security.
The Mailsend+ comes fitted with a clear and easy to use colour display screen as well as a integrated label printer. By using these brand new features, businesses will be able to compare service options, print shipping labels and benefit from the Royal Mail's Delivery confirmation service. It's colour display screen gives uses access to the latest postage rates automatically, whilst businesses will also benefit from the lower Mailmark prices as well as save up to 75% on Parcelforce retail prices. Not only this, but the Mailsend+ comes fitted with how to guides and the ability to track your parcels.
Based on our experience with a similar franking machine, we would suggest users of the Mailsend+ franking machine should frank up to, but not limited to, 300 items of mail per day.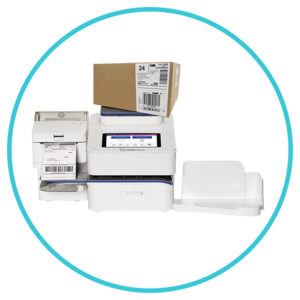 Mailsend+ Specifications & Mailsend+ Options
Compare The Mailsend+ Franking Machine
Take a look below and compare the Mailcoms Mailsend+ franking machine against other low to mid volume franking machines within the industry. You may find that other models may be slightly more suited for your business.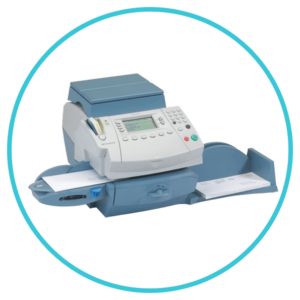 Mailmark Enabled
Smart Meter Enabled
Semi-Automatic Feeding System
Frank 65 letters per minute
Mailmark Enabled
Smart Meter Enabled
Semi-Automatic Feeding System
Frank 65 letters per minute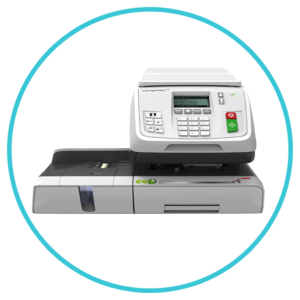 Mailmark Enabled
Smart Meter Enabled
Semi-Automatic Feeding System
Frank 45 letters per minute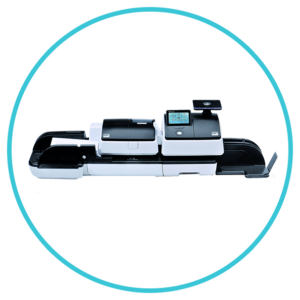 Mailmark Enabled
Smart Meter Enabled
Semi-Automatic Feeding System
Frank 65 letters per minute